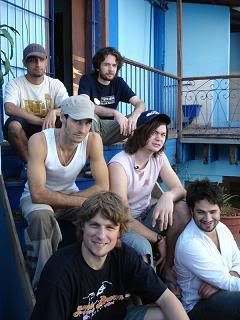 A person worked in Decent Xposure music company wrote a letter to me and would like introduce some artists to you through CocoaMusic. Today i'd like to recommend one of them--"The Cat Empire" and their latest albums "Cities" and "Two Shoes".
Who is The Cat Empire?
Combining a number of styles — from funk to jazz to ska — Melbourne, Australia's Cat Empire formed in 1999 as a trio. Keyboardist Oliver McGill, double bassist Ryan Monro, and percussionist Felix Riebl were eventually joined by trumpet player Harry James Angus, drummer Will Hull-Brown, and DJ Jamshid Khadiwala. A single and a live EP preceded the band's first album, The Cat Empire, which was released in 2003. At that point, they had already played the Melbourne Festival, the Adelaide Festival of Arts, the Melbourne International Comedy Festival, and WOMAD. Two Shoes, their second album, was recorded in Havana, Cuba and released in 2005. Cities followed a year later. Throughout the years, the band's members have been involved in numerous outside recording and performing projects.



Two Shoes
Recorded in Havana Cuba, at the famous Estudio Egrem where legends such as The Buena Vista Social Club, Irakere, Ruben Gonzalez and many others have found themselves recording. This album was made the old school way, playing live in a room over the course of 28 days in Nov/Dec 2004. Produced by Jerry Boys, Felix Riebl and The Cat Empire, it is an album we are proud of, one which survived food poisoning, blackouts, freighting hundreds of kilos of equipment across the world, and many other stories which will all be revealed in time. We are proud of it, and hope you will enjoy...



Cities
This project is somewhere in between a tribute to our own city and an experiment in sounds that we've found abroad. The approach to this record was far less precious than it was for our debut and two shoes. It was a kind of surprise record we almost didn't expect to make. We wrote the material very quickly, and had an excellent and robust few weeks recording it. The record is some ways serious and in some ways stupendous. There are ethnics, locals, sad songs, adventure songs, musical chorus', screamers, and a collection of soul references. There are strings sections, Sitars, Tablas, horn sections, short punchy arrangements as well as some excellent solos. It is the kind of recording people might get to hear a different side of The Cat Empire, but it's still soulful, strange, humorous, whimsical, sometimes sad, sometimes delirious, mis-placed and undoubtedly Catempiracle as well.
Product-https://www.thecatempire.com/content/shop.asp
Official site-http://www.myspace.com/thecatempire