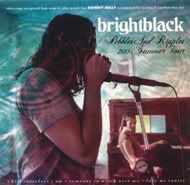 Artist-Brightblack & Bonnie 'Prince' Billy
Album-Pebbles and Ripples (EP)
Release Date-2002
Lable-Drag City
Genre/Style-Experimental
Format-mp3
Size-57M
Who is Brightblack?
Brightblack Morning Light or Brightblack is a collective of experimental musicians based in Northern California. The core members of Brightblack Morning Light are Rachael Hughes and Nathan Shineywater.
Brightblack toured with Will Oldham in 2002, which led to further collaboration in the form of Brightblack's full-length debut, Ala.Cali.Tucky in 2004, as well as a 2002 split 7" EP with Oldham, Pebbles and Ripples, released under the name "Rainywood" and re-released by Drag City Records in 2004. In 2006, Matador Records released the group's second full-length album, Brightblack Morning Light.
Personal Rating-Rare.
Product-
http://www.dragcity.com/bands/bonnie.html
Download-
File uploaded and reachable from the following project:
http://www.savefile.com/projects/1002169
(There are still lots of albums are available here)
If you want to link directly to the file:
http://www.savefile.com/files/338639