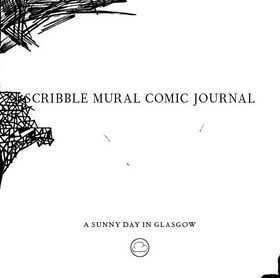 Artist-A Sunny Day in Glasgow
Album-Scribble Mural Comic Journal
Release Date-Feb 13, 2007
Genre/Style-Dream Pop/Indie Electronic/Techno
Size-74M
Quality-VBR HQ
Official Site-
http://www.asunnydayinglasgow.com/
and
http://www.myspace.com/sunnydayinglasgow
Biography
-Fronted by identical twin sisters Lauren and Robin Daniels and masterminded by their brother Ben, A Sunny Day in Glasgow emerged in the early 2000's with synth-laden experimental noise-pop that echoed 1980's shoegaze acts like the Jesus and Mary Chain. Ben Daniels started making cassette recordings with the help of his friend Ever Nalens years before A Sunny Day in Glasgow got together. Nalens moved to Glasgow from 2002 to 2004 in order to go to art school, and Daniels moved to London about a year later. They started collaborating again after Ben returned in the summer of 2005, but Nalens abandoned the project after a couple months. Daniels continued to write songs, asking his sister Robin to take over the vocals. Lauren was brought in as a vocalist a few months later, and the group started recording tracks in Ben's West Philadelphia apartment and at their parents' house in the suburbs.
They put some of the tracks together and released them as an EP, called The Sunniest Day Ever, in March 2006. The EP charted at number one on New York's WNYU, the songs started bouncing around online, and soon enough Pitchfork gave the first track on their EP, "C'mon," a four-star rating. Indie labels started to pay attention, and the group snagged a record deal with Notenuf Records in October 2006. They recorded their first full-length in 2006 and released it in February of the following year.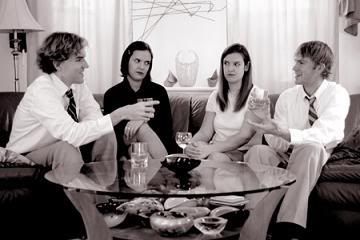 Youtube
online videos-
http://www.youtube.com/watch?v=_izglpvTjeQ
and
http://www.youtube.com/watch?v=G55GYZIBTKQ
Review
-If listening to Scribble Mural Comic Journal could be likened to watching a horror flick made in the 1950s, Ben Daniels would be a skinny teenage genius in a baggy lab coat, his twin sisters Lauren and Robin would be his eerie assistants clad in go-go boots, and the album itself would be his robot bride. In other words, A Sunny Day in Glasgow's debut is ambitious to the point of becoming monstrous; it strides right past the pop-oriented shoegaze material of the preceding EP and dives right into the sometimes miry tangle of Ben's auditory imagination. Lauren and Robin's tightly wound vocals are gorgeously incomprehensible, the guitars are acidic and knotted, the drums sound like they were recorded at the bottom of an abandoned mineshaft, and the whole thing comes off like a hot, blurry night at the bar. It's the kind of album that demands headphones. The most memorable moments on Scribble Mural are those that skillfully toe the line between shoegazey pop and avant-garde noise. "A Mundane Call to Jack Parsons" is spot-on with its Byrds-esque harpsichords and urgent drums, not to mention the fact that Lauren and Robin's vocals are given room to emerge through all that noise. "C'mon" opens with structured, springy guitars, only to lavishly implode into a mass of distortion and wails. "Our Change into Rain Is No Change at All" does the reverse, building ethereal pop out of seemingly chaotic guitars, tambourines, and synths. Scribble Mural takes Sunny Day's debut EP and splatters it, Jackson Pollock-style, against a wall. But for all the contortion and deconstruction going on here, Scribble Mural maintains the slightly disturbing and oddly uplifting vibe that made Sunny Day's teaser EP memorable.
Product-
buy it now!
Download Links have been removed. Please go to music store to purchase it.