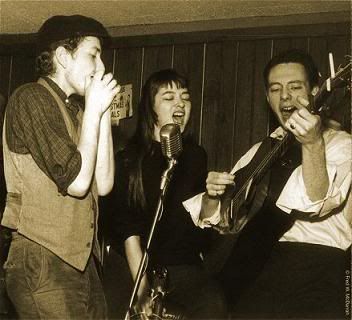 Bob Dylan, Karen Dalton and Fred Neil Feb. 1961
Artist-Karen Dalton
Album-In My Own Time
Release Date-Nov 6, 2006
Label-Paramount
Genre/Style-Traditional Folk
Format-mp3
Size-47M
Quality-192kbps
Biography-Karen Dalton
(1938 – 1993)
was an American folk singer and banjo player associated with the early 1960s Greenwich Village folk scene, particularly with Fred Neil and the Holy Modal Rounders as well as Bob Dylan. Her bluesy, world-weary voice is often compared to that of iconic jazz singer Billie Holiday. She sang the blues and played the twelve string Gibson guitar and a long neck banjo. Her second album, In My Own Time, was recorded at Bearsville studios, produced by Bob Dylan's former bass player Harvey Brooks, with liner notes by Fred Neil, originally released on Michael Lang's (Woodstock promoter) label, Just Sunshine. The cover photos were taken by Elliot Landy, and The Band's current pianoplayer, Richard Bell, guested on the album. Less common is her first album for Capitol, It's Hard To Tell Who's Going To Love You The Best, re-released by Koch Records in 1996. Known as "the folksinger's answer to Billie Holiday" and "Sweet Mother K.D.", it is said that the song Katie's Been Gone by The Band from the Basement Tapes was written about her.
She struggled with drugs and alcohol for many years and died in 1993.
This Karen Dalton should not be confused with another singer-songwriter Karen Dalton of Carlisle, Pennsylvania, whose "Songs For Hire" CD was released in 2001.
Personal Rating-Recommended!
Review-The late Karen Dalton has been the muse for countless folk rock geniuses, from Bob Dylan to Devendra Banhart, from Lucinda Williams to Joanna Newsom. Legendary singer Lacy J. Dalton actually adopted her hero's surname as her own when she started her career in country music. Karen Dalton had that affect on people - her timeless, aching, blues-soaked, Native American spirit inspired both Dylan & The Band's 'Katie's Been Gone' (on The Basement Tapes) and Nick Cave's 'When I First Came To Town' (from Henry's Dream). Recorded over a six month period in 1970/71 at Bearsville, In My Own Time was Dalton's only fully planned and realized studio album. The material was carefully selected and crafted for her by producer/musician Harvey Brooks, the Renaissance man of rock-jazz who played bass on Dylan's Highway 61 Revisited and Miles' Bitches Brew. It features ten songs that reflected Dalton's incredible ability to break just about anybody's heart - from her spectral evocation of Joe Tate's 'One Night of Love', to the dark tragedy of the traditional 'Katie Cruel'. Known as a great interpreter of choice material, Dalton could master both country and soul genres with hauntingly pining covers of George Jones' 'Take Me' and Holland-Dozier Holland's 'How Sweet It Is'.
Product-
http://www.amazon.com/exec/obidos/ASIN/B000IHY146/onmeta2-20/ref=nosim
Download-
http://www.verzend.be/v/6924995/Karen_Dalton_In_My_Own_Time.rar.html