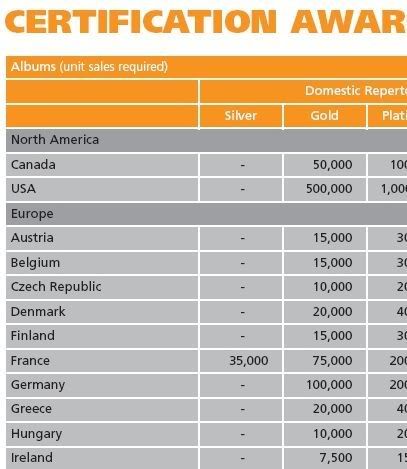 Hi chart-lovers,
I did lots of research about the certification rules all over the world, but the results were always incompleted.
Today I got the whole datas from IFPI Yearbook, that I think everyone would be interested in. These are latest certification requirements for all the countries in the world with national recording associations.
You could download here:
Size:290k
http://www.mediafire.com/?0yimjvjmmcn
or
http://www.bestsharing.com/files/ms001172187/certification.zip.html
By the way, I reuploaded the Poluhhonic Spree's new EP.
Here is the link:
Artist-Polyphonic Spree
Album-Wait (EP single)
Product-
http://www.amazon.com/Wait-Polyphonic-Spree/dp/B000ILDYEA/sr=1-3/qid=1163293164/ref=pd_bbs_sr_3/102-9499870-0464123?ie=UTF8&s=music
Download-
http://www.filecoast.com/?pg=file&c1=2326883418&c2=qhW7A6ch